Welcome to Our Organic Skin Care Range
ALL NATURAL * CHEMICAL-FREE *  ZERO ARTIFICIAL ADDITIVES
Unlike most so-called organic or natural skin care, our entire product range is completely free of any chemicals, artificial preservatives or colouring. In addition, our products are manufactured in perhaps the most bio-friendly country in the world (as evidenced by Vanuatu being rated #1 on the Happy Planet Index).
They are ethical Bio products that respect the skin's natural rhythm, with unique formulas containing organic Bio ingredients and 100% natural fragrances.
Volcanic Earth® Virgin Coconut Oil is created through the DME Method. This stands for Direct Micro Expelling and this oil is handmade, natural, raw and produced within one hour of opening the nut. Consequently, it retains the distinct fragrance and taste of coconuts. Our Coconut Oil is not only naturally organic, it is also unhydrogenated, high in antioxidants (which fight free radials that cause us to age faster) and free from impurities.
Volcanic Earth® Virgin Coconut Oil is not only cosmetic grade but it is also manufactured to food-grade standards and can be taken for many health benefits.
About Volcanic Earth and us
As distributors of Volcanic Earth® products in Australia, we take great pride in being able to offer you their exclusive range of exceptional organic skin care products, while also contributing to the company's goal of providing much needed livelihood opportunities and employment for disadvantaged Ni Vanuatu.
It is through its involvement in Vanuatu trade and the opening up global markets for its unique products that Volcanic Earth® seeks to be a significant employer for Ni Vanuatu inhabitants but in a way that allows its people to continue to live in happiness and harmony with the beautiful natural (unspoiled) environment and stay in touch with ancient earth.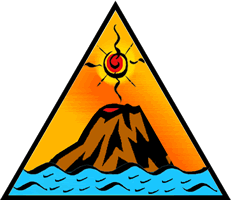 Did you know Pure Coconut Oil can be used in many ways for Health and Beauty?
The benefits include but are not limited to:
In cooking as a great oil with a high smoke point. Great for baking, stir-frys or as a dairy free replacement to butter. Use as a replacement for vegetable oils in any recipe
Taken supplementally for daily energy.
As a coffee creamer when emulsified into coffee (The only way I'll drink coffee)
On the skin as a anti aging skin care cream
As an eye-makeup remover
As a safe nappy rash cream
In making your own toothpaste
To lighten age spots when rubbed directly on the skin
To prevent stretch marks during pregnancy
To support healthy thyroid function
To help increase sun tolerance and avoid burning. As a naturally SPF 4 sunscreen
To get rid of cradle cap on baby- just massage in to head, leave on for a few minutes and gently rinse with a warm wash cloth
Topically to kill yeast or yeast infections
As a delicious tropical massage oil
It's high Lauric acid and MCFA content helps boost metabolism which promotes weight loss
A tiny dab rubbed on your hands and then through hair will help get rid of frizz
Rubbed on lips as a natural chap stick
Topically, can help skin heal faster after injury or infection
As an incredibly intensive natural conditioner- Rub into dry hair, put a shower cap on and leave for several hours.
On feet to fight athlete's foot or tor fungus
In place of Lanolin cream on nursing nipples to sooth irritation (also great for baby!)
Can help sooth psoriasis or eczema
There is some evidence that regular ingestion of coconut oil can help prevent or reverse Alzheimers
With apple cider vinegar as a natural treatment for lice that actually works
Rub coconut oil on the inside of your nose to help alleviate allergy symptoms
There is some evidence that coconut oil helps digestion and may even kill intestinal parasites or yeast
Mix a tablespoon with a tablespoon of chia seeds for an all-day energy boost (do NOT take this at night!)
Can help improve insulin levels
Oil pulling with coconut oil and a drop of oregano oil helps improve gum health
Can help improve cholesterol ratios
Blend a tablespoon into hot tea to help speed recovery from cold or flu
Can help reduce appearance of varicose veins
After initial heat is gone, can help speed healing of sunburn
As a natural personal lubricant that won't disturb vaginal flora
As a natural shave cream and after shave lotion
When used consistently on skin it can help get rid of cellulite
It's anti-inflammatory properties can help lessen arthritis
Can reduce the itch of mosquito bites
Can be rubbed into scalp daily to stimulate hair growth
Can help improve sleep when taken daily
Can be used to speed healing of fungal infections when taken internally and used externally
To help sooth the itch of chicken pox or poison ivy
It has been shown to increase absorption of calcium and magnesium
Some evidence shows that the beneficial fats in coconut oil can help with depression and anxiety
By itself as a natural deodorant
By itself or with baking soda as a naturally whitening toothpaste
For pets struggling with skin issues when used externally
Some evidence suggests that the beneficial fats in coconut oil are helpful for those with Autism
A tablespoon taken before each meal can help improve digestion
Can be taken in warm ginger tea to sooth heartburn or nausea
On hands after doing dishes to avoid dry skin
Mixed with catnip, rosemary or mint essential oils as a natural bug repellent
Can be used internally and externally to speed recovery from UTIs
When taken regularly, it can help fight candida
Can relieve the pain of hemorrhoids when used topically
Can boost circulation and help those who often feel cold
On cuticles to help nails grow
Rub into elbows daily to help alleviate dry, flaky elbows
Add to smoothies to give them a nutritional boost
Naturally clears up cold sores
Ingesting coconut oil daily can help with allergy symptoms
Ingesting coconut oil daily can increase mental alertness
---